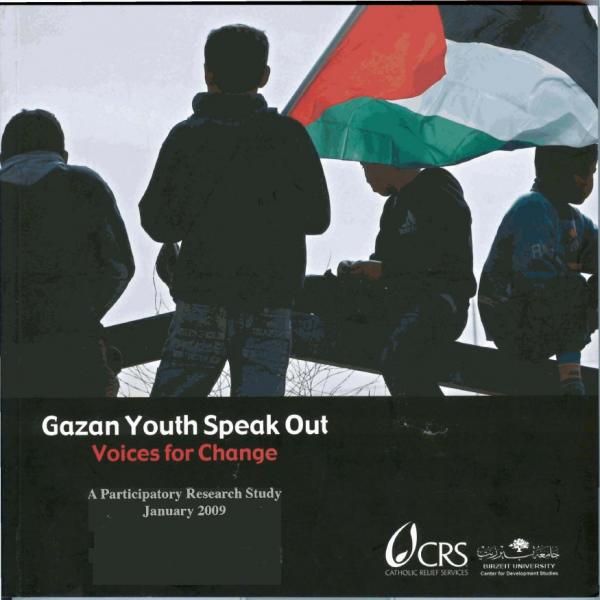 Funded by The Catholic Relief Services (CRS)
The research project aimed to participate in the understanding of youths and how they find their place in the Gazan context. Thus studying the social and economic changes and its effect on youths was necessary. Particularly, how youths would cope with such changes, and how they would envision a better future for themselves and their people. Furthermore, it aimed to develop an understanding of youths views regarding change, what are the sources of change, the main players that are able to help in change, and how youths define these players and their roles. The research presented an opportunities for youths to express their visions for change, and to strategically plan the change they envision.
The survey and focus groups focused on four political developments.
Israeli closures on the Gaza Strip
Continued Israeli military incursions
Conflict between Fateh and Hamas political parties.
Hamas's control of Authority institutions in the Gaza Strip
The participatory methodology focused on three stages:
Preparatory Stage: 18 youths were chosen from youth institutions working in the Gaza Strip, they were trained on scientific research methods. Various literature was reviewed in the stage, related to the research theme.
Research Stage: In this stage, the opinions of 1296 youths aged 18-25 were surveyed, 5 focus groups were conducted to design the field questionnaire.
Analysis stage: During the analysis, 10 analytical focus groups were conducted to reach main conclusions and recommendations supporting the results of the study and generally focused on the following themes:
Youth participation and relationship with institutions
Issues affecting youth relations on different levels: Personal, family, communal, and institutional.
Faith in institutions and their roles
Outlook for the future.
Institutions and their ability to make change for the future
Recommendations for future enlightenment.