Development Studies Programme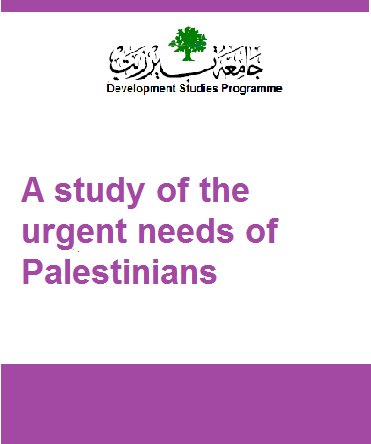 The Program undertook a qualitative research study in order to assess and determine the needs of local society in the various Governorates in the West Bank and Gaza Strip. The aim of the study was to establish a set of basis and criteria that would set the ground for institutions and help them determine the real and urgent needs voiced by society, in cooperation with Rafeed Project.
Rafeed Project provides grants to Civil Society Organizations to enable them to implement projects that would respond to the basic needs of communities. Rafeed depends on ideas and opinions provided by Societal Advisory Committees, comprised of specialists in local society development, who review the achievements of Rafeed and provide it with regular advice.
The desired impact and objectives of the Project is to meet and assess local and national needs. In this scope, the above mentioned study provided guiding to both Rafeed and local organizations seeking funding. The study linked the assumptions and visions of Rafeed and local organizations to the real needs voiced by communities during the various discussions and meetings held as part of the study. The study covered 16 areas in the West Bank and Gaza Strip. A focused meeting was held with beneficiaries from civil society organizations, while interviews took place with 4 people well acquainted with local communities. Two case studies concerning poor families were also undertaken in each area.
This Study is Only Available in Arabic
2002