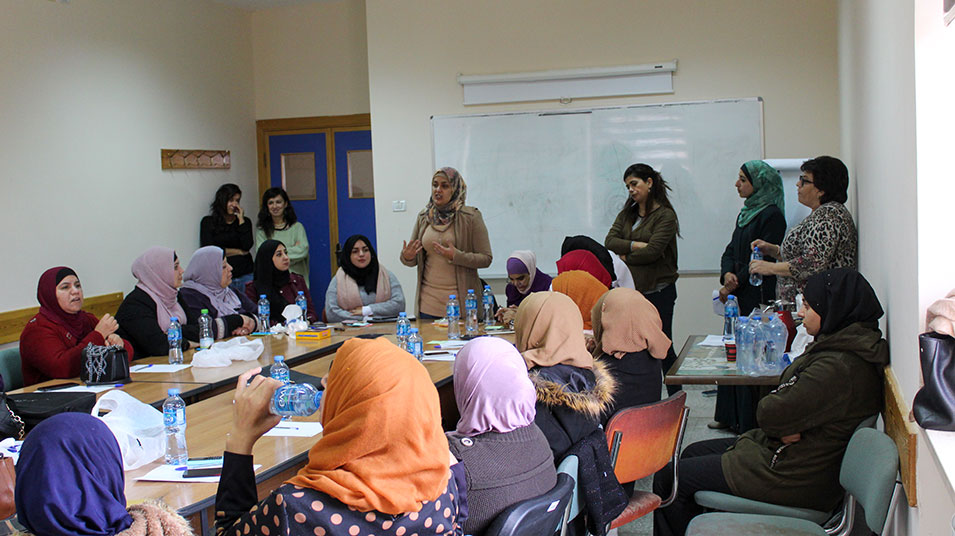 Birzeit – 11/12/2019- The Center for Development Studies held a discussion and presentations of experiences of a number of Palestinian women with disabilities. The meeting started with a presentation of a number of pioneering projects undertaken by a group of women with disabilities in different areas of the West Bank. These women were successful in fulfilling their role as economic and social actors and challenging their physical disabilities. The discussion and presentations aimed to exchange experiences and expertise and strengthening the relationship between the women entrepreneurs in the different areas of the West Bank.
Nahed Samara, coordinator of "Let's Start-Up" project, stated that this encounter comes within an integrated project implemented by CDS with the support of the Italian "EducAid" Foundation and in partnership with the two chambers of commerce in Ramallah and Nablus, Rantis and Aswat associations and Al-Najah University. It aims at enhancing the social and economic position of women with disabilities as they are the least privileged group in regards to accessing resources. In addition to enhancing the role of these women and enabling them to achieve themselves and to reclaim their active role in society. Samara also insisted on the importance of learning from these exceptional experiences that reflect the spirit of initiative and creativity while at the same time challenging the social and political conditions in which the Palestinian people live.
Imtiaz Abu Awwad, a participant, presented her pioneering experience in economic and community work, calling on women with disabilities to show strong will and challenge the economic, social and political conditions imposed on the Palestinian people.
This meeting came within an interactive framework of participation aimed at building a mutual knowledge between the institutions and women with disabilities, so as to get to know these entrepreneurial experiences success models that should be generalized. This encounter also comes as a part of the vision of CDS and its programs seeking to achieve an alternative model of development based on creating spaces for grassroots groups.